Children's Clinic
Gentle treatments for fit, healthy and happy children and babies
Making sure your child is fit and healthy is a priority for you as a parent and making sure the whole of their body is looked after is important to you.
There are a number of reasons why your child might benefit from osteopathy.  Not only does it deal with the functions of the body as a whole without the use of drugs, it offers a safe and gentle approach for infants and children.
Whether your child suffers from problems resulting from childhood mishaps, traumatic experiences or other conditions involving muscles, joints or nerves. The cedars dedicated children's clinic provides specialist osteopathic care for a range of paediatric related conditions.
Please call to speak to one of our fully qualified practitioners for further details or see our Pregnancy & Children's leaflet.
For some babies, the birthing process can be pretty traumatic and can cause some osteopathic post-natal stresses and strains manifesting in a variety of symptoms. You can receive a post-natal check up on your baby to make sure all their systems are working together as they should.
Signup!
To keep informed about our various natural treatments, self help tips and current topical health-related issues:
By signing up to the news letter you understand that your email will be used in accordance with our privacy policy
Related Therapies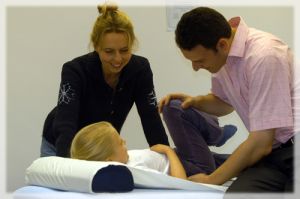 Treatments include traditional, non-invasive osteopathic techniques, including gentle Cranial Osteopathy, restoring harmony and rhythm to the body.  Also available are Shonishin ( a complete non-invasive acupuncture technique using massage instead of needles) and homeopathic remedies for a range of conditions gently and safely. Please call to speak to one of our fully qualified practitioners for further details.
Looking after your body is important for mum, too.  New and expectant mothers can get help with relieving the strains and pains of pregnancy with the Maternity Clinic.
For more information on how the Cedars Practice can help your child, simply call on:
01883 344301